News and Updates from Being Here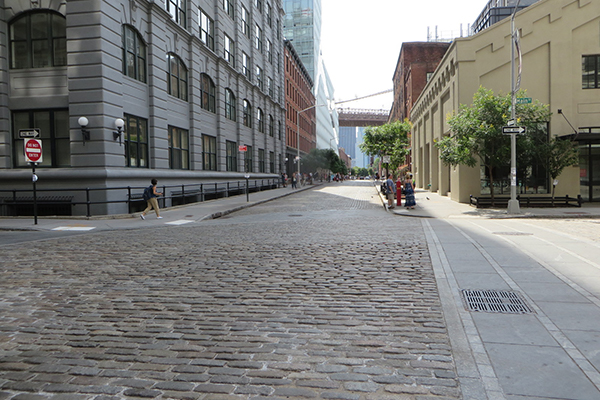 08.26.2017
HDC Releases Historic Streetscape Study
Today, New York's Historic Districts Council released our new report, Toward Accessible Historic Streetscapes, exploring an under-appreciated urban asset: historic pavement. We're proud to share this exploration of how to best reconcile the competing priorities of accessibility and preservation in fast-evolving historic districts. Find out more about our research and read the report here.
Update: We're thrilled to see the study featured in the October 2017 issue of Landscape Architecture magazine. Download a PDF of the story.
01.31.2017
1130 South Avenue Wins Staten Island 'Building of the Year' Award
The 55th annual Staten Island Chamber of Commerce Building Awards honored 1130 South Avenue with the organization's highest accolade, the Chairman's Award, on December 2. For this new commercial office building within Staten Island's evolving "Medical Mile," Being Here designed the site, including pedestrian-friendly streetscapes and a gateway entry landscape featuring a welcoming plaza anchored by a public sculpture. Our approach emphasized sustainable site practices to minimize environmental impacts to sensitive wetland areas while enhancing placemaking opportunities.
07.19.2016
Being Here Certified as a WBE by New York State and the Port Authority of New York and New Jersey
Being Here has been certified as a Woman-owned Business Enterprise (WBE) by New York State and the Port Authority of New York and New Jersey. We look forward to partnering on projects in support of woman-owned business participation goals throughout the region.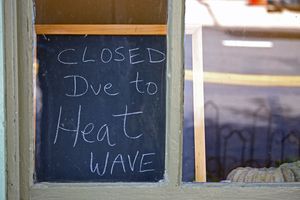 02.03.2016
How to Beat Extreme Heat
Rising sea levels are often cited as a climate-induced catastrophe, but heat waves are far deadlier natural disasters: extreme heat kills more people in the United States than hurricanes, lightning, tornadoes, floods, and earthquakes combined. How can we build cities—and a society —more resilient to extreme heat? In an article for Arup's online magazine, Being Here collaborator Jeff Byles explores a suite of relatively low-tech measures that can make a sizable dent in urban heat-island impacts.
Image credit: MTSOfan/Flickr
02.01.2016
Being Here Certified as a New York City WBE
We're thrilled to announce that Being Here has been certified as a Woman-owned Business Enterprise (WBE) by the New York City Department of Small Business Services. We look forward to contributing to the City's minority and woman-owned business participation goals.
02.18.2015
We're Speaking on Postindustrial Cities at Satellite magazine's Cities+ series in Brooklyn on March 10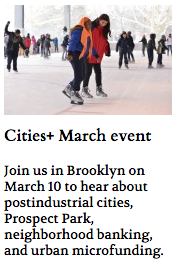 Being Here collaborators Denisha Williams and Jeff Byles are thrilled to be a part of Satellite magazine's Cities+ series of short talks on cities.
On Tuesday, March 10, 2015 at 7:30 p.m., we join fellow presenters Citizens Committee for New York City, Prospect Park Alliance, and the Brooklyn Cooperative Federal Credit Union at The Way Station in Brooklyn to explore facets of urban social and ecological resilience. We look forward to discussing our special interest in the renewal of postindustrial cities in the New York region and beyond.
Find full event details here.
09.18.2014
Being Here Selected to Present on Green Infrastructure and Industrial Heritage at Regional Symposia in October
Being Here Principal Denisha Williams and Partnership Director Jeff Byles are honored to be participating in two upcoming symposia highlighting urban sustainability and industrial heritage preservation in the New York region and beyond.
On Friday, October 10, Denisha will present on green infrastructure as a placemaking strategy at the sixth Passaic River Symposium, organized by the Passaic River Institute of Montclair State University. Denisha's talk, titled "Placemaking in a Changing Climate: Green Infrastructure as Community Catalyst for the Passaic River Basin,"
will explore how placemaking can work in tandem with green infrastructure stormwater management tools to spark environmental and economic transformation. The two-day symposium features presentations on a range of environmental management challenges relevant to the Passaic River Basin and other regional watersheds, from sediment remediation and environmental monitoring results to ecosystem restoration, environmental advocacy, and public outreach efforts.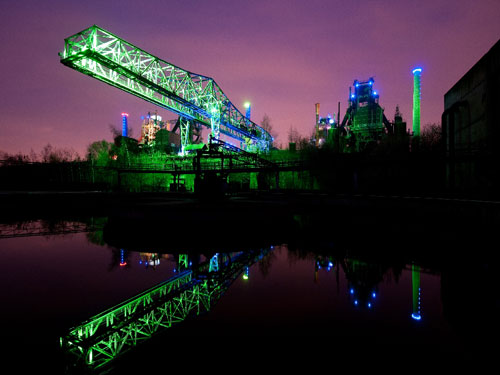 Photo: Christoph Schmitz
And on Saturday, October 18, Jeff and Denisha are thrilled to be a part of the 2014
Great Falls Symposium
, presented by the Roebling Chapter of the Society for Industrial Archeology. Hosted in Paterson, New Jersey, this event offers diverse perspectives on industrial archeology in the New York and New Jersey region, including talks on maritime preservation, the history of New York's rapid transit system, and Paterson's Silk City Diner Company. Jeff and Denisha's presentation is titled "Learning from the Ruhr Valley, Germany: An Inspiration for Heritage-Fueled Renewal in Passaic County and Beyond." The talk will consider Germany's large-scale landscape of coal mines and steel mills as a model for how social, cultural, and ecological measures can drive urban development rooted in a region's industrial past. We'll explore how the Ruhr's toolkit of tactics—including cooperative governance, inventive tourism infrastructure, and visionary design thinking—can be a template for the creative reuse of industrial sites in Passaic County and similar corridors in New Jersey and New York.
07.15.2014
Two Being Here Team Members Earn ISA Tree Risk Assessment Qualification Credential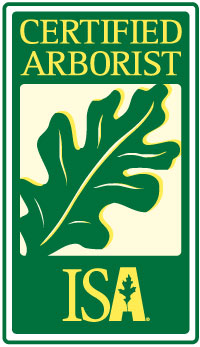 Being Here Principal Denisha Williams and Project Manager Patrick Weisel recently earned the ISA Tree Risk Assessment Qualification (TRAQ) credential by successfully completing the TRAQ course and exam administered by the International Society of Arboriculture (ISA) and the local chapter.
Since both Williams (NY-5504A) and Weisel (NY-5739A) are already ISA Certified Arborists along with their other qualifications in the field of landscape architecture, the TRAQ credential brings an additional dimension to their professional practice. TRAQ is a voluntary training program culminating in an exam with both a written and field component.
The credentialing program is designed to increase the standard of practice and safety in the tree care industry and to promote the professional development of practicing arborists. Credentialing also assists the public in identifying qualified tree assessment professionals. When contracting for tree risk assessment, ISA—the only internationally recognized certification program in the industry—recommends hiring arborists who hold the TRAQ credential.

Denisha and Patrick both found the TRAQ program to be valuable in establishing a qualitative industry-wide standard that can be applied to help public sector managers and private sector owners make informed decisions and prioritize resources.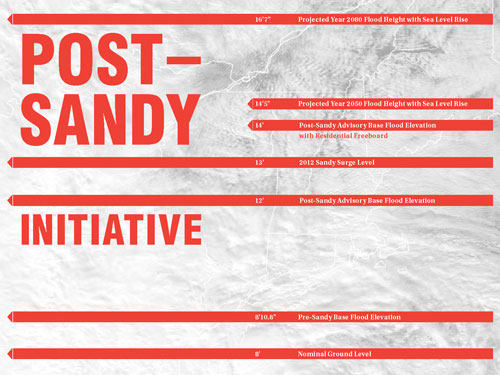 06.28.2014
AIA Honors Collaborative Post-Sandy Effort to Advance Resiliency, Sustainability, and Flood-Resistant Design
At the national convention of the American Institute of Architects in Chicago, the innovative, cross-disciplinary work of the Post-Sandy Initiative was awarded 2014 AIA Institute Honors for Collaborative and Professional Achievement.
Spearheaded by AIA New York's Design for Risk and Reconstruction Committee (DfRR), the Post-Sandy Initiative is a collaborative effort of many disciplines working toward the advancement of resilient architecture and urban design in New York City's waterfront communities. The initiative brought together a variety of organizations to not only share and compile best practices but to further the conversation about resiliency, sustainability, and the role and responsibility of design and architecture.
During her term as Immediate Past President of the ASLA New York Chapter, Being Here Principal Denisha Williams served as Co-chair of DfRR's Waterfront Working Group, leading the group's assessment of region-wide waterfront vulnerabilities, and advancing creative solutions to coastal management. With Co-chairs Bonnie A. Harken, AIA, APA and Jessica Sheridan, AIA, LEED AP, the committee mapped out new partnerships among practitioners of many disciplines—including planning, engineering, design, marine biology, and ecology—to develop and test new coastal interventions that have the potential to promote a safe city and sound ecology within a changing environment.
Find out more about the committee's recommendations in the Post-Sandy Initiative's full report.